SPORTS DIVISION SCORE A HIT WITH GIGGS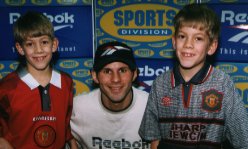 Manchester United and Wales hero Ryan Giggs recently appeared at the Croydon Superstore

We did it again - and brought you the fans another of the biggest names from the world of football !!

On Thursday 6th February, over 5000 fans turned up to meet their idol Ryan Giggs at one of the busiest Personal Appearance in store visits ever seen in a Sports Division Superstore. Joining Ryan on the day was a very special young lady, Sarah Keable, aged 14 from Worcester.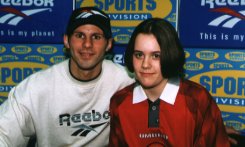 In advance of Ryan's visit to the Sports Division Superstore, we got in touch with the BBC TV Saturday morning kids show, the nations favourite 'Live and Kicking' offering one of their viewers the chance to spend the day with Mr Giggs - and Sarah was, for the day, the envy of every girl in the land.
She and Ryan flew together in a private jet from Manchester to Biggin Hill, where Sports division had laid on a Daimler to take them to the store. Sarah had the opportunity later in the day to interview Ryan for the BBC and this together with footage from the day, was broadcast on 'Live and Kicking' on Saturday 8th February.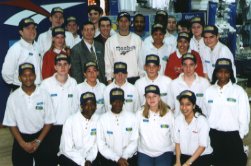 Ryan's visit to Sports Division's Croydon Superstore was arranged in conjunction with Reebok, which as sharp eyed Manchester United fans will know, is the brand name found on Giggsy's football boots.
Watch out for future Star appearances being announced here at www.sports-division.com.